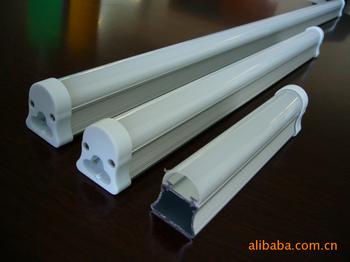 Product Name: 9W LED Tube Light 0.6m
9W LED Tube Light 0.6m
Features:
1. Energy efficiency (the same brightness, energy-saving70%-80% more compared with ordinary fluorescent lamps)
2. Environmental protection( LED tube light without UV and radiation) The waste LED tube can be recycled.
3. Long lifespan (30,000 hours, 5-10 times than ordinary lamp)
4. No maintenance (Simple installation. It needs little maintenance in the use

Specifications:
Product No.: T5-9CS144-P01S-W/WW/NW-4
Input power(W): 9W
The total Rated Power(W):11±1W
Length: 0.6m
LED:3528 0.06W
LEDS Qty(pcs):144
PC Cover:Frosted
End Cap: Plastic
Color: Daylight White, natural white, warm white
Luminous Flux: 800 Lm±100 Lm, 800 Lm±100 Lm, 750 Lm±100 Lm
Color temperature:6000K±300K, 4000K±300K, 3000K±200K
CRI:≥70
Input Voltage: AC100-240V
Power Factor: 110V ≥0.94, 220V≥0.92
Work Environment Indoor -10~45 / R.H.≤85%
Storage Temperature -30~65
IP Rating:44
Warranty: 2 years
Size:L571*W26*H34mm
Weight:0.21kg

Application:
1.Production line: Compared to traditional fluorescent lamp, it can protect the eye and health of the staff.
2 Supermarket: There is no infrared and no fever. It is good for environmental protection. The color is also good, which shows the true colors of commodities. There is no heat for the commodities in the LED light exposure.
3. Schools and Office: safety and reliability, no flicker, soft and pure. No UV, no harm to human skin.
4. Hospitals, municipal buildings, plazas, and parking: It is best for long time and difficult to maintain places.